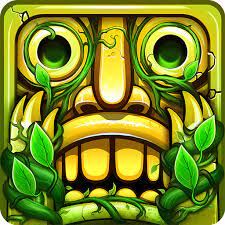 Temple Run 2
Welcome to Temple Run 2! Your goal is to flee from the evil forest using the riches of "the cursed god statue", which was taken from a mystery temple. You will need to sprint along the trail in order to get out of it. You will encounter many obstacles along the way. To avoid them, you need to leap, duck, or otherwise move left and right. There will be several obstacles along the way, such as the rope to slide on to avoid getting into the abyss or the many tiles and rocks that you have to leap over to avoid getting captured by the monster. Also, there are spinning spikes and fire to jump under and duck under. Another way to avoid falling from the trees is also possible.
Some obstacles will knock you completely unconscious, while others may slow you down. The monster can then capture you if you're slowed down again. There may be coins that you find along the route. You might need to turn left or right in order to collect them. Your ability meter will increase as you collect coins. Once it is full, your ability will be available. The default ability of boost is to allow you to move forward without worrying about obstacles. To upgrade your many abilities, coins can be used. The shield, which protects you from obstacles but doesn't prevent you from turning to another route, and the magnet, which attracts money to your location Finally, there is the boost, which skips ahead and protects from everything.
How To Play
Use arrow keys to control in this game.