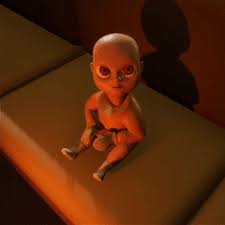 The Baby in Yellow
The Baby in Yellow is a free online game. In this game, you will take on the role of a babysitter tasked with caring for a mischievous infant. Your employment seems typical at first, but then you notice anything unusual. You must be alert for his unexpected attack in addition to feeding the baby, changing his stinking diapers, putting him to bed, turning the lights on and off, and other duties. The infant in your care is not as pure as you believe!
The farther you delve into the mystery, the more you'll discover about the odd infant. Don't let your guard down, or he'll attack you at any moment!
Features
Achieve a level of realism and detail in your 3D visuals.
Feel the surge of excitement as you strive to care for a youngster with wicked intentions.
Try not to let your anxiety get the best of you as you cautiously explore dark regions.
Carry out a variety of tasks during the course of the night.
How To Play
You may use your mouse to move items and the mouse wheel to control your field of vision.
Press ESC to quit the game.