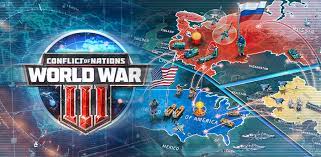 Conflict Of Nations
Conflict of Nations is a multiplayer strategy game. You can join the fight and defend your nation against separatist groups. Play against other players to increase your global influence and win the game. To achieve your objectives, you can enlist military troops and expand your empire. Be aware that war has its costs! You will need a keen eye on morale, optimizing the output from the many resources you control, and continually assembling an army to fight the multiple fronts of war, protect your territory, expand your dominance, or capture additional provinces. In your lab you might conduct military technology studies and open new units. Depending upon your plan and requirements, you can deploy infantry and tanks on your territory. Diplomacy as well as commerce play an important role in War of Nations. Form alliances and coalitions with players who share your strategic objectives to meet your raw material demand more efficiently.
Features
Real-time combat

Dozens of military formations and weaponry.

Rewards that may be obtained with each success.

A special morale mechanism that will decide whether or not your population Support your military endeavors.

Develop better cars, guns, and other things by doing research.

Regular upgrades that include fantastic military units like Elite Attack Helicopters and new terrain.
How To Play
USE THE MOUSE while you inspect the map, monitor units, and more.

LEFT CLICK to make decisions, choose units, and more.