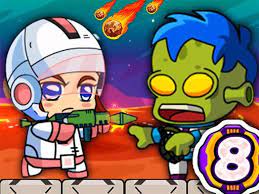 Zombie Mission 8
The quest in Zombie Mission 8 picks up where it left off in the last episode. After the space station, zombies are set to overrun the Martian colony. It is essential that you use the correct tools and vehicles to find and expel all the scientists and employees on Mars. Mars is a dangerous place. It will be crucial to avoid the regular meteor shower. The alarm will go off for a brief time, and you will have the opportunity to enter a shielded cabin that will keep your safety. For your quest to progress, you might use gravity switches and wall jumps. These improvements will enhance your heroes' fighting skills. Multiple stages of Zombie Mission 8 can be played by one player or two.
Features
Boy and girl characters
Various zombie models
Survivors to be rescued
How To Play
P1: W, A, S, D, F, G, Q-E.
P2: arrows, L, K, O-P.