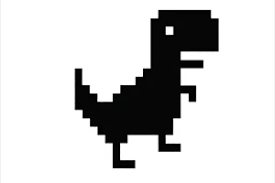 Dinosaur Game
Dinosaur Game is a well-known and beloved 2D arcade game that challenges you to guide the dinosaur T-Rex through the vast desert. Get involved today to have a great time!
Anyone who has ever used Google Chrome to browse the web has likely experienced this issue. If your computer does not have an Internet connection, the screen will display a gray dinosaur. After hitting the spacebar, the dinosaur will begin running. The first obstacle it will encounter is a cactus.
Millions of people around the world play the dinosaur game. You don't need any special equipment or knowledge to play this game. Although it is easy to play, getting a high score can be difficult.
How To Play
Spacebar or ↑ key to start Dinosaur Game.
Press and hold ↑ or SPACEBAR to make the dinosaur jump higher.
↓ key to avoid the falcon.
ALT or F11 key to pause the game.